When I started this website back in 2007, it was difficult to find alternatives to dairy. Over the last couple of years there has been a surge in popularity for plant-based diets. Whether this is for ethical reasons or to help save the planet, many people are either becoming vegan or at least trying to eat less meat. This is great news for people who are dairy-free, as all of a sudden there was a huge range of vegan milks, cheeses and other dairy-alternatives. A couple of years ago we started to notice that there were more vegan options in restaurants. This is great if you are not able to eat milk and eggs, as it means you can choose from a menu without having the awkward conversations with the staff!
If you are dairy-free you are halfway to being a vegan anyway. All the desserts and cakes on this website are vegan by nature as they contain no milk or eggs. So in order to go vegan it's just a case of leaving out the meat!
Tofu is a great alternative to meat, as it contains a reasonable amount of protein. However it can be bland and it can be difficult to know how to cook it. Something I noticed is that the vast majority of tofu recipes are for stir-frys. Don't get me wrong, I do like a stir-fry, however you don't want to be eating the same thing all the time. I was trying to think of other ways of eating tofu and so came up with the idea of making a vegan roast dinner.
The most important thing to know about cooking tofu is that you need to remove as much water as possible and the first step is to press it. You can do this by layering a block of tofu with paper towels and placing something heavy on top. As we eat quite a lot of tofu, I actually bought a special tofu press to do this job, and honestly it is a game-changer. You can put a block of firm tofu in the press, leave it for a few hours or overnight. The water drains out and leaves you with a much better texture.
To make my tofu roast I wanted to marianate the tofu in something to give it a good savoury flavour. I chose a new sauce that I found in the Chinese supermarket called Vegetarian Stir-Fry Sauce, which is a vegan equivalent to Oyster Sauce and is flavoured with mushrooms. I cut the pressed tofu into fairly large blocks and covered it in the marianade, and left it for about an hour while I got on with the rest of the dinner (roast potatoes, sweet potatoes, carrots and parsnips).
Once my vegetables were cooking away in the oven, I seared the tofu by grilling it. I actually did this in a panini-maker but you could also use a griddle pan. Then it went in the oven on a baking sheet with parchment paper for about 20 minutes.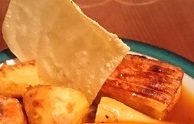 The other tofu-aspect to my roast dinner was my tofu crackling. This is made from tofu skin which is a bit more difficult to find than the blocks of tofu which are readily available. I got a packet of fresh tofu skin from my local Chinese supermaket but I have also seen it available in a dried form which needs to be soaked first. I first tried tofu skin in Hong Kong where they use it in ingenious ways to make mock meat. All I did was shallow-fry a sheet of the tofu skin in some vegetable oil - a few minutes either side until crispy, and then added some salt. It actually tasted a bit like pork!
Just to increase to the protein-content of the meal I also cooked a few vegan sausages in the oven. There are loads available in the supermarkets, the ones I picked were gluten-free (made of soya and onion). I served it with some green veg and some gluten-free gravy.